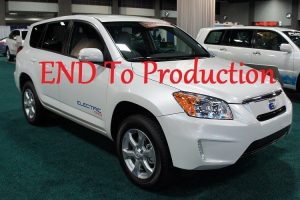 Toyota has always been an active participant in the research and development. That is the reason a number of vehicles have been launched that saw success. But with success there are setbacks and failures that come handy. Toyota has always gone extra mile to make sure that vehicles that do not meet their benchmark should have the production ceased.
It is because of this the rumors of Toyota Rav4 EV expected withdrawal from the market was taken positively by many.  Tesla being the supplier of EV battery packs told an online magazine that their production activities are expected to come to an end by 2014. It is analyzed by auto experts that may be the rumor becomes true, as Toyota RAV4 EV expected sales was 2600 units while it just sold 1600 units approximately in reality.
It is expected that FCV Concept will be introduced in Toyota hydrogen cars starting the production from 2015. It will be a technology of next generation with expectations high that the leadership position will be maintained by the company.
Nothing has got official yet so let's keep the fingers crossed for good. And who knows Toyota might be doing something completely out of the box.