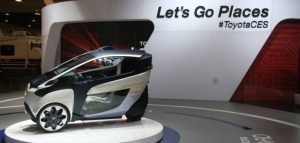 Toyota has always been one of the most innovative companies at the forefront experimenting with small miniature micro forms of transportation. The ground breaking concept that has been brought forward by Toyota is the i-Road concept.
The i-Road concept is basically a single one man transport pod that is a cross between an automobile and a motorcycle. It is the ground breaking electric vehicle that makes use of a computer for leaning into turns with a solid and substantial feel to it. According to the raving reviews made by the Autoblog, the i-Road stabilizes as speed decreases, comes to a stop in the middle of a turn and will be upright by the time it comes to a halt. Since the vehicle is self balancing, there is no need of driver input of effort in order for it to come to a halt. The auto pod is ready to go after just the press of a D button to the left of the steering wheel. The i-Road concept by Toyota ensures safety on even roads and surfaces when the Active Lean system kicks in and varies the angles of the wheels all the while keeping the body at level.
Toyota i-Road introduced not just a new type of vehicle but a new type of driving pleasure as well. This new vehicle is predicted to be a huge hit due to its ease of use, secure disposition and lack of driver's effort.

Toyota i-Road: The "personal mobility vehicle" by AutoMotoTVEN_cac