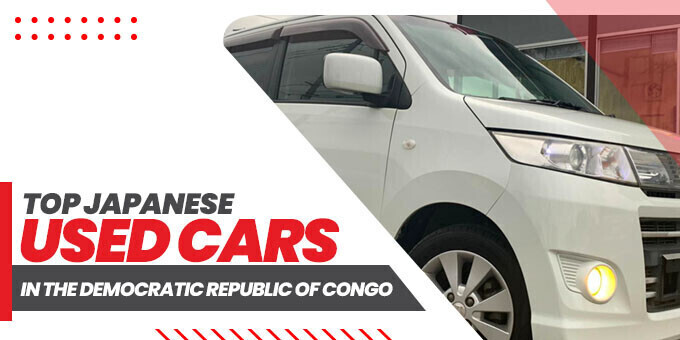 Japanese used cars have gained popularity and success all over the world. These vehicles have attracted people from different segments by offering outstanding internal and external features. Hence, various countries are importing Japanese cars. Moreover, these cars are not only reliable but durable too.
The Democratic Republic of Congo is an African country that has become one of the main vehicle markets. Therefore, the country is importing a range of new and used Japanese cars. It's not only because of the high demand for Japanese vehicles but also because it's easier to import used Japanese automobiles.
Here, we have listed the top Japanese used cars for sale in DR Congo that has successfully gained attention. So, if you are looking for used cars for sale in DR Congo, read on to find some of the best ones.
5 Top Japanese Used Cars in the Democratic Republic of Congo
Buying a vehicle is always a thought-provoking task. It's never possible to visit a dealer and buy a car without any research and findings. It's a costly purchase. Hence, it's necessary to spend time searching and finding the most suitable vehicles.
The Japanese used cars for sale are easily available in the market. Different dealers are specifically ensuring the availability of Japanese used vehicles. However, you must identify the features as they will aid in selecting the right car. Most of these models are valued globally because of their remarkable quality and dynamics.
When talking about Japanese vehicles, some names pop up in mind. These include Nissan, Suzuki, Toyota, and Mazda. All these are competing in the Japanese market and have introduced some of the best automobiles in these years. The innovative features and the unique interior and exterior, along with advanced technology, easily meet customers' needs.
Here is a list of the bestselling and available used cars for sale in DR Congo:
1.    Toyota HiAce Van
Toyota has been ruling the automobile industry for decades. The manufacturer has designed and developed most of the best-selling vehicles in the market. In addition, it is recognized as the producer of the most reliable and valuable vehicles, including the small and large ones.
Toyota HiAce is one of the top automobiles desired in the Democratic Republic of Congo. It's a practical automobile that's used as a commuter vehicle. It ideally fits the needs of people by providing efficient traveling. So if you want to go with the used cars for sale in DR Congo, this is the best choice.
Driving a Hiace van can be a fun drive. It's a commercial vehicle, which has grabbed attention due to its powerful engine and versatile features.
2.    Honda Fit
Honda is one of the leading automobile brands that has successfully achieved international recognition and success. The Honda Fit is one of the best Japanese models that offer wide cargo space. It was launched in 2014, and since then, the model has achieved commendable success.
Honda Fit comes with a magic seat design. These are completely foldable seats that can flip or flat. So, if you need more space, go for this vehicle. If you are looking for affordable used cars for sale in DR Congo, don't miss the opportunity of buying a Honda Fit.
The model does not only meet your needs but also exceeds your expectations. People love the Honda Fit because of its great safety ratings. The car has the most reliable safety features that include the following:
Rearview camera
Stability control
Traction regulator
Curtain airbags on the front and side.
3.    Toyota Alphard
From time to time, Toyota Motors has launched some of the best vehicles. The Japanese automaker does not miss a chance to impress people. When looking for Japanese used cars for sale, you'll come across Toyota Alphard. The automobile model is known for its luxurious features and robust exterior.
The Toyota Alphard is perfectly tuned to facilitate the transportation of passengers with extreme comfort. The 3.5 liter V6 engine model is generous for people. Moreover, it's a reliable vehicle. Thus, you can focus on finding Toyota Alphard when looking for used cars for sale in DR Congo.
4.    Nissan Skyline
For decades, Nissan has been competing against some of the strongest players in the automobile market. The Skyline range of the brand was introduced in 1957. With time, it evolved into a performance-based sports vehicle. Today, it is identified as one of the most influential and modern vehicles.
If you plan to buy a sports vehicle, you must know that the range is very pricey. In DR Congo, you can easily find used cars at affordable rates. The Japanese dealers ensure the availability of used cars for sale in DR Congo, ensuring that you have reasonable options when purchasing automobiles.
The models of Nissan Skylines offer valuable features, including a stylish exterior and a comfortable and sleek interior. The older models had all-wheel drive and six engines.
These are the legendary models that grabbed the attention of car enthusiasts. Hence, don't miss the Nissan model when searching for Japanese used cars for sale in DR Congo.
5.    Nissan Juke
Nissan Juke is another Japanese model by Nissan that the South Africans prefer. In DR Congo, the Juke is known as an intelligent SUV. The model comes with distinctive exterior features and intriguing designs. The dramatic lights and sharp lines easily grab attention.
If you want to buy a bold car with sleek aerodynamics, the Nissan Juke is the right choice. However, as the model is pretty expensive, you can look for it in the list of used cars for sale in DR Congo.
SBT DR Congo is one of the dealers that has a range of Juke models. Once you start looking for used cars for sale in DR Congo, you'll come across SBT. It's one of the reputable dealers that have a simple process for buying cars.
You can also check other Japanese used cars for sale in the democratic republic of Congo. Again, it will provide an opportunity to compare and evaluate before you choose.
Also Read: Car Import Guide in DR Congo
Final Thoughts
The bottom line is that people around the world prefer the purchase of Japanese-used vehicles. Japanese automobiles have achieved higher recognition and fame all over. A range of Japanese used cars for sale offer commendable features and benefits at affordable prices.
SBT DR Congo is one of the recognized dealers that ensures the availability of the best and topmost used cars for sale in DR Congo. The company is widely dealing in Japanese used vehicles, and as a credible used cars dealership, SBT is offering tested and certified vehicles. The process is stress-free and only requires you to visit the online platform and connect with the representatives.