There is nothing standing in the way of you letting you drive the car of your dreams no matter who you are or where you are. With the introduction of the amazing Kenguru Electric Car it is now possible for individuals in wheel chairs to drive their own car with complete freedom.
The new electric car is Kenguru in relevance to the Kangeroo as it cuddles the driver safely in the middle and provides the driver complete freedom to to drive with ultimate ease. For disabled individuals it is difficult to get hold of a reasonable priced vehicle that will allow them the freedom to drive and are forced to buy large minivans that are considerably expensive. The launch of the magic vehicle is planned later in 2014 costing around $35,000 to $40,000. It allows the owner to simply open the boot via remote control and wheel it into the vehicle and you're good to go. Being a completely green car it allows the single passenger to experience the top speed of 25 mph and a range of about 45 miles.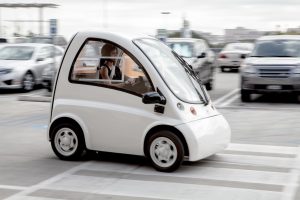 Kenguru is a major breakthrough for providing state of the art vehicles for everyone without any discrimination on the basis of their state and physical impairments. This project has opened a gateway to the first of many vehicles to come catering to a major important chunk of the market.