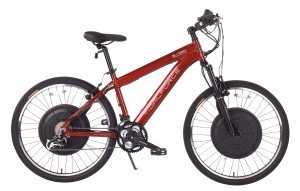 Do you mind traveling on bicycle to your office? I think yes.
But the case has become very different now. There are no thinking boundaries for humans. We usually write articles on hybrid cars, electric cars and even electric bikes but today we will take this go green technology to the next level and that is electric hybrid bicycles.
There is no rocket science or heavy engineering included in this concept and we must mention that it is not a concept it is full fledge product which you can buy and commute on.
In contrast of any hybrid and electric car or motorbike this bicycle cost a little. You can even get its standalone machine as well for just $1000 and can easily create your bicycle to e-bicycle and enjoy this amazing piece of technology and innovation. the weight on this certain e- cycles are a bit higher than the tradition ones but I think if a person is that much interested in buying this amazing technology will not bother a minor extra weight. If we talk about the top speed of its moderate model then it is 20mile per hour. The battery is located in the main frame of the bicycle. You just need charge it for a whole night then you will be able to commute for a whole day. The battery drain of this amazing bicycle is vary from model to model.
on the whole this technology seems very promising and will further mature in some years to come and we hope to see these e- bicycles on our roads very soon.
So without further delay, have a look of this amazing technology in below video… Enjoy!