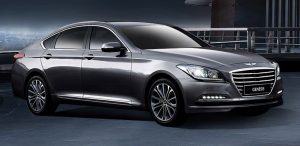 When it comes to car controlling then you should be thinking of good road grip and accurate braking systems. Many companies or even certain models of them are meant to be the best controlled cars to date.
As with the technology evolution, different concepts came and go but now the things have changed allot because the conversion time of making concepts into reality is no more time taken game.
Recently few years back we saw a technology called self driving cars and that was time when most of us thought it was impractical concept and we will never see it in reality.
But time has proved us wrong and now these cars are reality. we know you will be surprised to read this but to be honest we must say that we are very close to achieve excellence in transportation with these amazing self controlling, driver less vehicles.
Today we will discuss about the video that a well-known Taiwanese car manufacturer called Hyundai showcased. They put some brand new Hyundai Genesis cars in queue but the amazing part of video comes when these drivers leave their car and climb over the truck and even with drivers' absence these Hyundai cars follow the cue and even after the sudden brakes.
We are hopeful that soon this amazing technology will hit the market and other manufacturers will bring cars with most advanced technology as in the end these amazing feature always give ease to the customers.
Have a look of this amazing Hyundai stunt in below video.