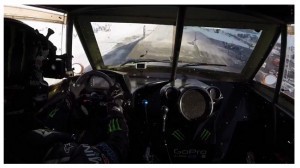 We all love to watch Hollywood movies and especially filled with car racing and dramatic fighting scenes. We have several examples like Need For Speed, Fast and the Furious, Rush and etc. In movies your favorite super heroes' don't do all the action alone but with the help of action director and stuntmen.
Along with the stuntmen, Action directors and actors, there are some others who contribute towards these action packed sequences and those are none other than high tech cameras.
Recently a company called GoPro set a stunt in which they wanted to show a driver's reaction when he jumps his car for setting a world record. Unfortunately that experiment ended up very bad and opposite of what they thought. They got successful in capturing a video but that video was not of driver's joy but was of an unfortunate accident.
These technologies are really amazing and GoPro cameras really create amazing videos. Drones flight shooting and sky diving are the best example of usage of these cameras. Recently this company was acquired by Google and we hope the possibilities will be endless. Google has a specific department called Google Ventures which keep an eye on potential billion dollar companies and tries to make an acquisition or investment deal with them. GoPro is the example we have.
Let's take a look at a below video.