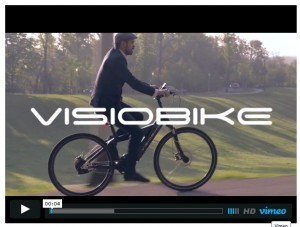 We have seen electric cars a lot. We have seen go green campaigns to make a world a better place to live. the electronic thing is not confined itself only to the electric cars or electric motorbikes but now we discuss the amazing idea of e- bicycle.
Visiobike is the name of the company that showed some of its prototype models of electric bicycle. The Visiobike is not all electric and it is not even peddle less. You need to move peddles in order to commute on this amazing bicycle. on the other hand it has automatic transmission.
We know you have so confused that is it a bicycle or a motorcycle that runs on electric? Yes it is only bicycle.
Let's discuss how it works.
You can utilize the telephone to open the bicycle, track your pace or even see what's behind you utilizing the implicit back Polaroid.
The cell phone (both Android and iphone are upheld) has a committed support on the bicycle's handlebar; however it unites with the bicycle remotely, by means of Bluetooth. You can see a GPS guide of your surroundings or facts about your ride on the telephone, with all your information being put away in the cloud.
An alternate vital gimmick is programmed mischance recording and crisis alarm if Visiobike discovers an effect. Furthermore on the security front, the Visiobike has GPS following and a movement sensor with SMS notice, so you comprehend what's going on with your bicycle at all times. It weighs 46.3 pounds, which one of the venture's authors Marko Matenda calls the perfect weight.
You essentially jump on the bicycle and begin accelerating as you would with a standard bicycle. Begin moving up a slope, and it will feel basically the same, as the bicycle's engine supplies the additional force.
The lithium-power pack batteries consist of 14.5ah battery keeps going for around 62 miles, after which you'll have to connect the bicycle to a normal outlet and energize it for three hours.
Visiobike simply propelled a crowd funding battle on Indiegogo and is looking to raise $245,178.
VISIOBIKE INDIEGOGO VIDEO from Visiobike on Vimeo.