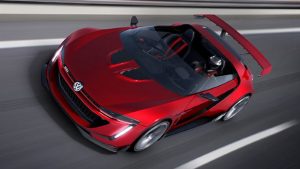 It's Volkswagen's interpretation of Gran Turismo's 'Vision GT' arrangement – following in the strides of BMW's and Mercedes' deliberations – and catches up a year ago 'Plan Vision GTI' idea we drove in LA. But instead than simply abandon it as an advanced offering for the gaming group, VW chose to make a fitting one.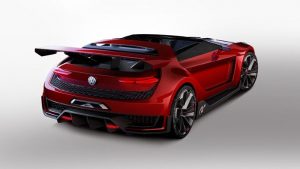 What's more the feature obviously, is that motor. It's a 3.0-liter, twin-turbo V6 TSI (out of the Touareg) transforming a whopping 500bhp and 413lb ft of torque, complete with a seven velocity DSG gearbox and VW's "4motion" all-wheel-drive framework.
Since it just need to move a weight of 1420kg, the GTI Roadster is equipped for quickening from 0-62mph in 3.6 seconds (a FF will destroy it 3.7s), and top out at 192mph. Better wear a cap, in light of the fact that you may have perceived there is no top.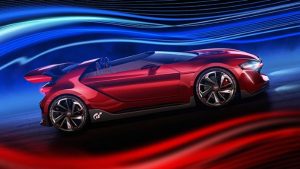 Likewise with the Design Vision idea we saw a year ago, this GTI Roadster demonstrates a sight of where the way going GTI's configuration will wander later on. This being an idea auto obviously, means its shorter, more level and more extensive than both the street auto and a year ago DV idea.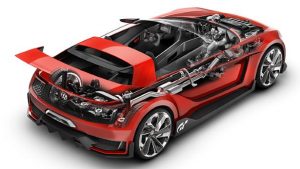 There are 20in wheels. There are beast 380mm artistic circles in advance (356mm at the back). There are LED daytime running lights. There is a carbon monocoque inside with two 'race-shell' seats divided by a focal bar. The instrument showcase is on a V-formed wing on top of the directing segment, itself longer, in the same way as a dashing auto.
"When Sony asked us if we would develop a Vision GT vehicle exclusively for the game to mark the 15th anniversary of Gran Turismo we didn't hesitate for a moment," said Klaus Bischoff, Head of Design at Volkswagen.