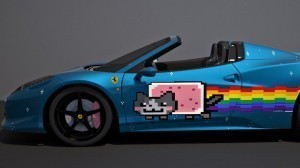 There are different ways of doing charity. If someone is a singer might will do it by giving free concert performances. If someone is some footballer then he might organize a charity match. Common people make charities by participating in the events, organizing the event or at least by buying tickets or give some extra money to buy ticket of some charity function.
Today we will talk about some different way of doing charity. This way is quite in when it comes to do charity. Actors, singers and even sportsmen sell their assets and give money to the charity instead of filling their own pockets.
A very well known DJ named Deadmau5 is doing  the same. A Canadian born DJ who is very famous amongst the music lovers and consistently be in top 10 of top 100 Best Djs in the world. Deadmau5 gave some hit like some other DJ did not give and the best part is its consistent performance in music industry.
You may wonder why we are talking about music instead of cars. Then we will say there is an element of car as well. The new development from the DJ Deadmau5 is that he is selling his customized Nyan Cat Ferrari and for that his demand is on $380, 000 and if he will get more than required then all above will go to charity called Toronto Humane Society. On top of it Deadmau5 is also offering a coffee with him if the buyer would be United States citizen.
So we think the offer is not that bad and if you want to own a classy Ferrari then you must think about spending some money .. 🙂
Enjoy a ride of this Ferrari in a below Video… Enjoy…!!!