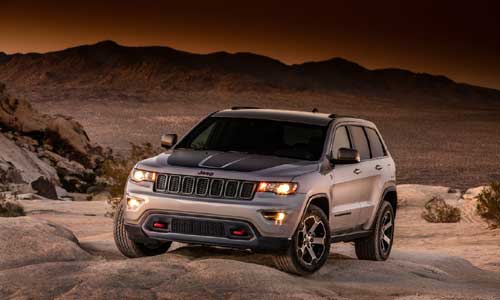 Are you ready to experience an unforgettable ride of comfy and luxurious jeep? Here, welcome the innovative detailing of 2017 Grand Cherokee Trailhawk with exceptional features and high-promised performance. The International engineers were involved to integrate some futuristic technological advancement in the former Cherokee Jeep. The forthcoming version is designed with off-road compatibility that features an unusual jeep's air suspension system.
Lavish Outlook with Classical Touch
This unique model propose efficient articulation., reliable suspension travel and a Quadra-Drive 4×4 system assist with a stern  electronic limited slip differential. While designing the structure; special attention is given to the exterior stance. Grand Cherokee Trailhawk ensure the availability of high gleam with extraordinary visual facade. The removable lower front outlook makes the Grand new Cherokke Trailhawk more versatile that offer enhanced design approach, departure angles and breakover as compare to old model.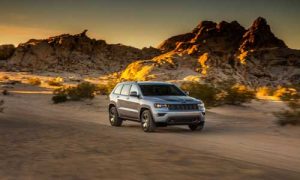 Additionally, the leading Trailhawk comes with approximately 11-inch ground clearance suspension settings and 18-inch wheels shod in resistant off-road tire. The exterior of Grand Trailhawk is beyond the sporty outlook and masculine design. The fitted LED lights can clearly work even in the day and compel the nearer people to admire and adore the superior styling of Jeep. Furthermore, the hood's decal has more purpose than the outer styling as it reduce the glare whilst the red tow hooks at rear and front can personalized in new detailing.
Warmth Touch of Comfy Interior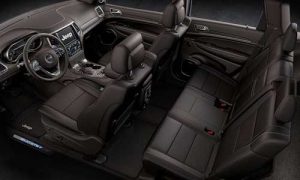 Apart from modish and classy exterior, the snug interior is the signature shot. The internal cabin of Grand Cherokee Trialhawk  is improved by dressing the seats with suede and elegant leather finished with red stitching. The core objective of modified Trialhawk is to excel the comfort level of customer and fulfill their driving needs utterly. Soon this unique jeep will tap the entire automobile industry with its salient hi-tech electronic functioning that include crash mitigation, ambient interior lighting, panoramic moon roof, leathering steering wheel, bright touch display, climate control features and self-parking.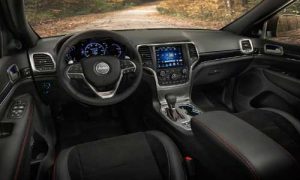 The integrated multimedia features of Trailhawk outshine with the inimitable touch of advanced technologies. Jeep's fully owned satellite radio, Uconnect, premium sound package and many other is enough to offer a brilliant experience of driving. The updated attribute of infotainment keep projecting the road resistance information that involves wheel articulation, selected driving mode and suspension height.
Deliver Enhanced Performance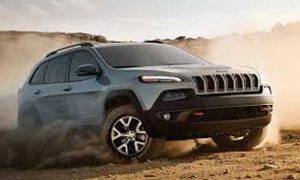 The new Grand Cherokee Trailhawk prepared with V6 engine and 4 boasted  cylinders options together with 4WD or FWD features. The strong engine is capable to assist a 9-speed automatic transmission as well as auto-manual transmissions. The 4 cylinder engine has full storage of 2.4 liter with boost-power by 184 Hp whilst the V6 engine has storage of 3.2 liters and horsepower up to 271. The full mileage of Trailhawk is approximately of 20-23 MPG/city and around 26-32 MPG in a highway. The purpose behind integrating such features is to develop a jeep that could maintain high fuel competency without compromising on its performance.