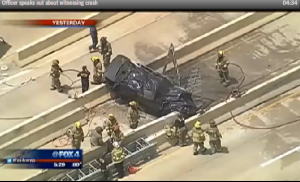 It is a testament to the degrading condition humanity is falling victim to that the idea of helping someone in dire need is secondary to making a video about it. What would be your first reaction be if you saw a car crash and people stuck inside crying for help? Apparently some of us have elevated to a level where they would rather make a video of people burning alive in their car instead of helping them get out of it.
A Dallas police officer witnessed the inhuman acts of a group of witnesses around a deadly car crash that left two people stuck inside the car on highway 67. Police Lieutenant Anthony Williams who at the moment of the accident was off duty saw flying debris and got to the location immediately. The scene he witnessed left him in awe. There were two people trapped in the wreckage crying for help and literally being cremated alive. The officer tried to help them but it was too late. He saw a group of witnesses making video of the burning car with their cell phones when the Lieutenant asked people if they has fire extinguishers.
The perversion of social media according to the Lieutenant has left people without compassion and consideration and tolerance for others where they have reached a level that people being burnt alive was of no value to them.