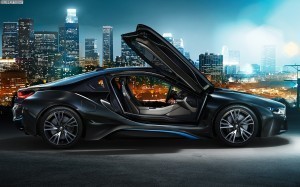 The Feel Of Flying
BMW is one of the most technologically superior and innovative automobile companies in the world at the moment. The introduction of technologically superior cars through BMW is no new news to them but the latest development by BMW in this regard has been the most impressive in its kind providing the aura of "Wings" whose performance is sure to make you feel that you are flying on the road.
The i8 Super Car
The BMW i8 is the SUPER Car that has been introduced by the company with doors designed as wings and providing efficient and effective performance. The vehicle provides an aura of immaculate futurism alluring through the details of a flying winged entity that is sure to leave its passengers in a whirlwind of epic experience. The dead cool aura with a corner gripping all wheel drive by BMW and winged door. It has taken the giant step of revolutionizing its vehicle class. Being the very first sports car with the consumption and emission value of the compact car, BMW i8 is labeled as the most progressive car ever. The perfect synchronization between the electric motor and the combustion engine provide the massive strength to the plug-in hybrid.
Unique Attraction
The BMW i8 not only provides ultimate athleticism but its unique sporting idea through the combination of BME eDrive technology and BMW Twin Power Turbo combines to provide an outstanding experience.