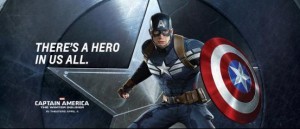 With the recent collaboration between General Motor's Chevrolet and Marvel Comics for the block buster of the year Captain America – The Winter Soldier, the product placement of the reputed vehicle has been essential to the story line of the movie. With beauty like Scarlett Johanssen cruising on Corvette Stingray at the very beginning of the movie, Chevrolet experienced the recognition it was looking for.

The automobile giants has taken another major step forward with Marvel Comics by introducing the "Cute Little Heroes" campaign built around Captain America – The Winter Soldier. Not only does it put Chevrolet on the map but the campaign advertisement is exclusively produced by the makers of Captain America – The Winter Soldier, Anthony and Joe Russo. The innovative and young at heart campaign portrays the message that there is no restriction on being a hero no matter the age no matter the time. This conveys Chevrolet's signifying values of consistent heroism, can do spirit and pure authenticity in each and every one of its vehicles. Captain America – The Winter Soldier was the ideal platform for Chevrolet's campaign to grow due to the movie's most beloved hero and the savior of the world.

CAPTAIN AMERICA: THE WINTER SOLDIER [12A] OFFICIAL TRAILER from total:spec on Vimeo.