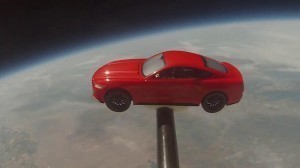 Ford is leaving no stones unturned at its 50th anniversary. From assembling the Ford Mustang 2015 on the top of the Empire State Building to the launch of the amazing new model at the LA Auto show, the company is back with a bang but not in this world; in SPACE!
Ford orchestrated an amazing feat in collaboration with the Michael Sego, Ford's San Francisco-zone sales manager, and Steve Kubits, a partner at Big Valley Ford in Stockton, California. The duo combined their theatrics and hooked a toy 2015 Mustang to a GoPro equipped weather balloon and sent it up to space. The model used was one of those that Ford gave away at auto shows a few months ago. The amazing creation went up in space for 21 miles into the sky before landing back on earth 74 minutes later.
Ford Mustang;s 50th anniversary has invigorated the company to awe and impress the world all over through their out of the box stunts and amazing successful feats.