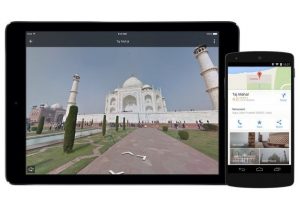 Google has always been the guiding light of technological innovation reaching the limits that were not only impossible but unimaginable. Over the spans of years, Google has proven its true worth through numerous achievements in numerous areas, its latest being the guiding partner on the road to the passengers through its numerous features in Google Maps.
The newly released iOS introduces a number of useful applications and features for navigation and travel through the iPhone or iPad. One of the highlighting features is the Google Maps collaboration with the transportation service Uber. Another feature that will prove to be most valuable is the Lane Guidance feature that will enable you to determine to most feasible lane to choose in order to reach your destination without missing any important turns. Not only this but the jewel in the crown of Goggle Map's new iOS is the Save Option for use in Offline Mode. It also enables to filter searches for point of interest by category, pricing, hours and more.
The coordination with Uber in this regard will allow the users to side by side use the service in case of need using the online application to hire the Uber taxi phenomenon just a touch on the smart phone away.