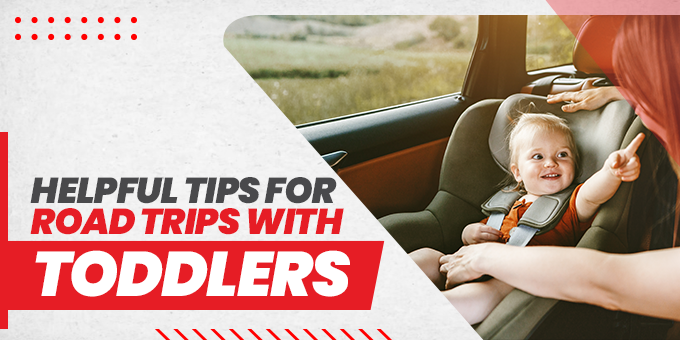 All over the world, parents with toddlers are aware of the difficulties they face during road trips with a toddler. Mostly, parents wince on the term road trip as they do not want their fun trip to turn into a nightmare.
Planning a road trip with a toddler? Have you thought about how you will the little one calm and content on the trip? What if he continues crying throughout the journey? Do you believe you can deal with it?
Many experienced parents have shared some tips that are helpful when traveling with young children and toddlers. These tips can help you in enjoying a safe and smooth trip. The main thing you need to do is ponder the car you have. Many people these days buy Japanese used cars. These are safe for traveling and can be used for road trips with family.
What Should I Keep In Mind Especially when Travelling with a Toddler?
Whether you are traveling for fun or have to visit relatives, it's always better to plan out effectively especially when you have a toddler. Some people keep postponing their trips to save themselves from trouble. They're just too scared to go on a journey with toddlers.
In the same world, you'll find some expert and travel-keen parents going for road trips again and again. If you want to travel, go ahead. You are permitted to make remembrances. It's not rational to miss out on the fun just because your child is too young. Toddlers can have fun too, they deserve it.
Keep in mind that just because you had a baby, does not mean that you have to miss the opportunities of having fun. You surely can travel. It can be highly rewarding and incredibly fun.
7 Tips for a Safe and Good Journey with Toddlers
Wondering where to start planning your road trip with a toddler? Here we've listed down some amazing tips. We are sure you'll save yourself from trouble and have fun if you follow these.
1.   Pack like a Pro
No matter if you are traveling early morning or planning to leave late at night, you need to manage your packing efficiently. When packing, don't overdo it! Keep in mind which car you have, how many people are traveling, what is needed, and what is not. Each family member should carry a bag of their belongings.
If you have more than one toddler, take two different color bags. Use one for each. Start packing the clothes first. If it's just a weekend trip, pack around 6 sets of clothes for your toddler. Keep in mind if they easily mess up their clothes, add some more. Consider the weather conditions when traveling.
Don't forget to keep their shoes, socks, gloves, caps and hats, and goggles. Then start packing the food and milk for them.
Also, pack toys with you. Take the ones your toddler loves playing with. It will keep him content and happy.
2.   Pack Snacks and Meals
Snacks can easily distract toddlers.
When packing, ensure you keep bottles for babies. Keep finger foods. These easily keep toddlers calm during road trips. Being a mother, if you have any other adult driving the car, join your baby in the back seat. It will be easier to keep him happy. Spoon feed him during his meal hours.
As good parents, you should always take healthy travel snacks. Some of these are listed below:
Chopped fruits.
Whole grain cereals,
Cheese cubes.
Bite-sized potatoes.
Use a separate container for the snacks and keep this right in front of you. It is also recommended to keep some treats for your toddler. Some M&M's minis won't harm much. Try feeding your child at rest stops.
3.   By a Child Safety Seat
This is very imperative.
The safety of your toddler must be given priority. You can easily find the safety seat at nearby stores and order from an online retailer. Keep the toddler safely buckled in their car seats throughout.
4.   Play Music during the Journey
When traveling with family, music can keep everyone entertained and content. Your toddler will also enjoy some soft music.
5.   Avoid Leaving Your Child in the Car
No matter what, never leave them alone. Even if they are fast asleep don't leave them. It's never safe. If you have any emergency or need a bathroom pause, reflect your decisions. If more people are traveling with you, that's fine.
If you are traveling alone with a child, take them along with you everywhere.
6.   First Aid Kit is Necessary
It's always better to be prepared. You should have a first aid set in your car.
You must be ready for sunburns, bruises, bites, allergic reactions, or scraped knees. Anything can happen. Maybe your toddler just got hurt by its own toys. Whatsoever arises in your path, huge or small, you should know exactly how to deal with it.
7.   Don't Panic
We all know that mothers easily panic when their toddlers are crying. During a road trip, avoid this. If your toddler starts crying, try to figure out what can be done. You can make a pit stop. Pullover at some safe spot. Now try to calm your toddler.
Here is what you can do:
Play soothing music.
Offer snacks or treats.
Try singing songs or poems.
Talk to him.
Give his toys.
Final Thoughts
Family road trips are supposed to be fun. These don't need to be stressful. If you have a toddler, do some extra planning and preparation. Take care of the needs of your toddler according to the distance you are going to cover.
You can follow the above-mentioned tips. However, the best one is to ensure that you have a good and convenient car for road trips. Japanese used cars are highly reliable and offer convenience, safety, and a high level of satisfaction. If you are looking to buy a family car, choose from Japanese used cars. You can find them at good rates.