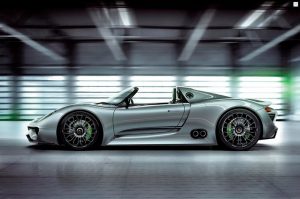 What feels like a time capsule of a genius providing portal into the future, is the fastest ever plug in hybrid to ride on earth. It is the perfect harmony of the ingenious trio including a super halo car which is a plug in hybrid in an all electric mode that is the fastest production car to date.
This is the Porsche 918 Spyder; the most technologically advanced car of our time. Possessing the ability to go 18 miles before switching to the gasoline engine, it reaches the top speed of 211 mph which after help from the gasoline engine generates a mind blowing 887 hp. It is highly effective with the ability to go from 0-60 in just 2.8 seconds. Thus it provides insatantaous crushing power as soon as the foot grazes the throttle pedal. Along with the biblically fast speed, the delivery of power is smooth and consistent providing control to the driver which is essential for road racers above all.
The switching from electric mode to hybrid to sport to race and then to hot lap leaves the driver in awe at the amazing perfection Porsche 918 Spyder offers.

Porsche 918 Spyder Press Film by AutoMotoTV