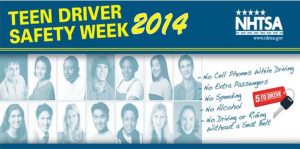 Wyoming Medical Center has teamed up with National Highway Traffic Safety Administration this week in an important campaign "5 to Drive". The campaign has been designed to encourage parents to set rules for their teen drivers instead of imposing restrictions that are often conflicting! According to a research conducted, the motor vehicle crashes in 2012 led to around 859 US teen deaths due to uncertain driving circumstances. The team members clearly highlighted the fact that:
 "We want parents to know that even though their teens might be gaining some independence, the parents' job doesn't end there. Teens are still kids. They still need rules and restrictions, and believe it or not, parents—they'll listen to you."
The NHTSA through its campaign has provided the parents the facts and figures to conduct a discussion with their teens in a comfortable environment. The parents can use words from authority's website. Five ultimate rules have been designed to help save the valuable lives of many adventurous teen drivers. The "5 to Drive" rules that parents must share with their children are:
Say No Cell phones: Around ten percent of deaths are reported to be caused by driver distraction while on phone. Texting and calls must be avoided at all cost. There are even applications that disable the phone while vehicle is in motion. The driving must be focused and so does the driver.
No Speeding: In 2012, excessive speed was a factor in 48 percent of crashes that were fatal to teen drivers. New drivers just don't have the skills or ability to handle over speed. Talk to your teen about how risky speeding could be for them and the pedestrians. Some cars also offer tools to monitor and limit teen drivers. 
Say No to Extra Passengers: A number of studies have found that teen drivers are more likely to engage in risky driving behaviors, like speeding, tailgating, weaving or showing off. While state graduated licensing laws often limit the number of passengers a teen driver can have, parents should also strictly not allow teens to drive with extra passengers unnecessarily.
Say No to Alcohol: NHTSA reports that in 2012, 28 percent of teen drivers who had fatal crashes had been drinking. The alcohol must be prohibited under all circumstances. The children must know that they should not drive drunk or either sit in car that is being driven by a drunk.
Always Buckle Up: No parent would let a toddler ride in an unbuckled car seat, yet teen drivers are the group that's least likely to buckle up. NHTSA says that 55 percent of 15- to 20-year-old passengers who were killed in a car crash were not wearing a seat belt. It adds the 49 percent of teen drivers who were killed in car crashes while sober were not buckled up. Ford's My Key system disables the car's radio until everyone in the car has their seat belt on.