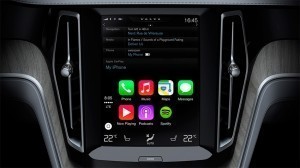 Apple in Automobiles
Apple, the leading company that is itself an epitome of innovation, is here to rule the automotive industry now. Having made its name parallel to success all over the world, Apple has smartly penetrated into the automobile industry through its superior car infotainment system. Apple's history of amazing creativity, brilliant innovation, intelligent techniques and mind blowing products has made the tier-1 suppliers fearful and agitated.
CarPlay – The Future of Vehcile Infotainment
Apple's iOS for automotive infotainment is named "CarPlay" which will be available in vehicles in the very near future. The companies opting for CarPlay in their vehicles in 2014 include Ferrari, Hyundai, Jaguar, Honda, Mercedes Benz and Volvo. With Apple's supreme performance over the years, it is expected that the interface will be provided in 25 million cars by the year 2020. The CarPlay interface will not only allow the user to connect their iPhones with their dashboards but will also enable them to check email, run Apple Maps for navigations, text, Facebook and stream music through their iPhones among numerous other options.
Future Endeavors
Apple is not just planning to accommodate the automobile industry through the CarPlay infotainment system alone. The company with its peaking popularity plans to offer vehicle manufacturers with its successful OEM design services which has been Apple's core strength over the years. It is yet to see the eye opening unimaginable specifications that Apple has a knack for offering its users by making the unimaginable happen.