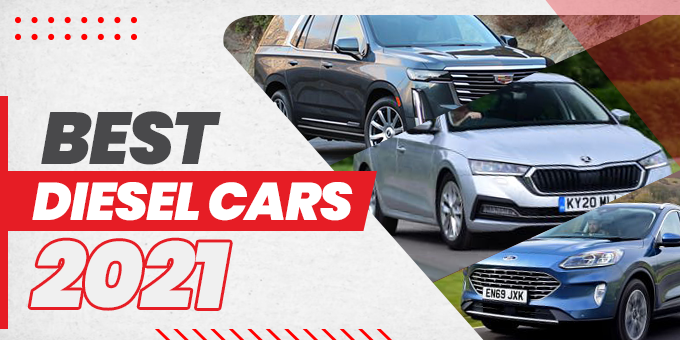 The diesel engine's invention was undoubtedly one of the best achievements in the world of engines. If initially, a power supply was the prerogative of the very particular and heavy vehicles (such as boats, tanks, trucks, etc.), its usefulness for cars and Toyota Hilux Double has also been discovered and realized with the passage of time. Please note that the Best diesel cars can be low cost with a lower operational cost for a used car buyer, but these criteria can't work for all because every buyer has their own preferences.
From that moment, a path began that continues today, marked by the improvement of the performance, efficiency, and savings of these engines, which has convinced several car brands to produce diesel versions in quantity. This is the reason why the diesel car market is extremely diverse.
Before drawing up the ranking, it is necessary to clarify that there is no "best ever" car version since each buyer's choice reflects their needs in terms of space and power. The ranking that we are about to propose describes the best diesel-powered cars in terms of capacity, space and consumption.
Ford Fiesta
The Ford Fiesta is in fifth place in the ranking of diesel cars that consume less. The best-selling model of the US   car producers, renewed with very aggressive and contemporary lines, thanks to the potent horsepower EcoBlue engine, is able to ensure a very reliable and lower consumption. Besides, if you want to buy Toyota Hilux Double Cab instead of Ford Fiesta; so, as a used car buyer you supposed to explore its diesel version at used car exporter centers.
Citroen Cactus 
The next key position in the ranking of diesel cars is the Citroen C4 Cactus: the sedan of the transalpine company, with a refined design and comfort in line with the great flagships of the past, which allows consumption of just 20.7 km / l,   due to its   BlueHDi engine.
Dacia Sandero
The lowest step of the podium for the Dacia Sandero, a model that permanently occupies the top floors of the sales charts in European used car exporter centers, both for its low price and reduced consumption. The Sandero is powered with BluedCi 75 horsepower engine; in fact, it ensures an average mileage of 27.7 km / l, which translates into 3.6 liters of fuel consumption per 100 kilometers of road.
Peugeot
At the second position in the ranking of diesel cars that consume less, we find the Peugeot 208. The French city car, which has just won the Car of the Year title, offers a 100 horsepower  BlueHDi engine that ensures consumption of 3.5 liters per 100 kilometers and average mileage of 28.57 km / l.
Citroen C3
The dominance of French cars is evidenced by the presence of Citroen C3 at the top of the ranking of diesel-powered cars that consume less. The third generation, proposed on the French company's market with a slight restyling, is equipped with a 100 horsepower 1.5 BlueHDi engine that allows it to travel 29.41 km / l with average fuel consumption of 3.4 liters—every 100 kilometers.
Although the car market tends more and more towards electric and plug-in hybrid models, several still rely on diesel cars, not surprisingly at the top of the used car sales charts. Furthermore, many models have been included in the list of cars to buy with state incentives.
Dacia Sandero 
The leading equipment of Dacia Sandero is ABS with emergency braking assistance, Front airbags (passenger can deactivate it, as per need basis), front head and thorax side airbags, Groomy wheel cover, Isofix hooks on the rear seat, Hill-start assist, inflation kit tires, LED daytime running lights, black interior, and exterior door handle, black bumpers,  V socket, manually adjustable black mirrors, power steering.
Renault Clio 
It is a car that has always made inroads among used car consumers' preferences. It is for the guessed relationship between quality and price and the continuous updates and improvements that do not upset drivers' expense commitment.
A used car buyer supposed to explore and find its installed standard add-ons, i.e., front side airbags for head and thorax, Isofix attachments, electronic key, on-board computer, climb back control, cruise control, rear headrests, heated electric mirrors, height-adjustable driver's seat, split rear, height-adjustable steering wheel and depth.
Renault Clio
For all except Renault Clio Life and Renault Clio Moschino Life also equipped with navigator, Dab radio, electrically foldable mirrors (but not in Renault Clio Business). Please note, only Renault Clio Duel and Renault Clio Moschino Intens are loaded with height-adjustable passenger seats and front parking sensors.
Ford Ka +
Derived from the previous Fiesta, Ford Ka +  is proposed with an updated bumper and grille. Also, in the Active version, there should be additionally higher from the ground and with wheel arch protectors. Please note, its Hill Start Assist is standard on its all versions, helps prevent unwanted rolling back.