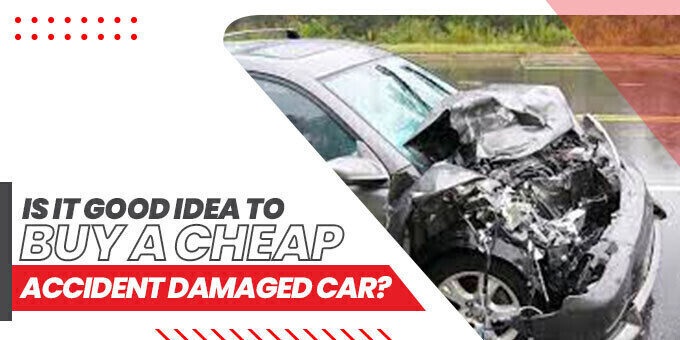 Is it a good idea to buy a cheap, accident-damaged car? In many cases, no. Vehicles that have been in accidents need extensive work. Hence, it's expensive to fix, even if the damage is relatively minor. Also, there could be hidden problems with the vehicle, which will only show up later on.
The automobile industry of Jamaica is growing, which has provided businesses with the opportunity to increase the prices of vehicles. Hence, people are widely looking for damaged cars in Jamaica that will help them get by and would be a much more affordable option.
It is a good option as you can easily get a cheap accident-damaged car for sale, but you need to ensure you're buying something worth it.
Begin your search for cheap accident-damaged cars for sale as soon as you can. It will not only save money but also help you in owning a vehicle sooner than you expect. You can also check car auctions online or visit the dealers that have second-hand damaged cars at a good price.
What Are Accident Damaged Cars?
Car mishaps can cause thousands of pounds worth of loss. Unfortunately, an insurance company will only pay out so much to repair a vehicle, which leaves users with a shortfall that they will have to cover themselves.
On top of this, there may be hidden damage, which won't become apparent until days, months, or even years after the accident.
When car accidents occur, the cars involved are often written off by insurance companies for various reasons. These cars are then offered at car auctions online or to salvage firms for recycling or repair purposes to restore them to at least a serviceable condition.
You may be wondering if it's even worth your while to purchase an accident-damaged car. Will you be tossing your money down a well? Or can these "damaged goods" lead you to an excellent deal at a giveaway price? An accident-damaged car can sometimes offer great value, but beware, not all salvaged vehicles are created equal.
Therefore, spend time researching Jamaica's damaged cars. Even if you buy from the car auction online, do have the required inspection beforehand.
Don't Miss the Accident Damaged Car Categories
Every state has its regulations for salvage titles. If the damage is so bad that it exceeds the determined value, some states will confiscate the car, but others will still allow the owner to keep it.
Some of the defined categories for cheap accident damaged cars for sale are below:
Salvage Category A (rebuilt) means that even though there was severe damage to the car, it has been repaired to meet safety standards.
Salvage Category B (salvage/parts only vehicle) indicates that the owner has salvaged parts from the car but cannot present an operable title. Therefore, the state will take possession of the remaining parts to be sold at an auction.
Salvage Category C (repairable) means that the vehicle has been previously repaired by an owner who did not have a valid title or license. However, you can take it to a licensed repair person for further repairs and certification before driving again.
Salvage Category D (irreparable/parts only vehicle) specifically applies if the damage is extensive enough that no one wants to buy the car as it is now.
Salvage Category X (flood/fire damaged vehicle) is only used in states that have been affected by natural disasters such as hurricanes and forest fires.
Car prices in Jamaica are lowering with time. There has been a huge drop in the prices of accident-damaged cars in Jamaica. For example, an accident-damaged Honda Accord 2001 model is selling for $4600. An accident damaged Toyota Corolla 2002 model is selling for $7700.
You can make better selections if you have the required information and understanding of the classes mentioned above. Of course, it will help save money, but you can also get the right type of car. SBT Japan is one place where you can find various second-hand damaged cars at a good price in Jamaica.
Pros of Choosing a Cheap Accident Damaged Car for Sale
Firstly, it's cheaper to buy damaged cars in Jamaica than a used car with no damage. A newish-looking damaged car can save you money on insurance.
Insurance companies consider these cars totaled and thus sell them for very low prices. The price to insure the re-buildable vehicle will be more affordable than the cost to insure a non-collision car if you end up insuring it at all.
People avoid cars that have been in accidents, even if the damage was minor and repaired properly. As a result, these vehicles sell for thousands of dollars less than the same model without damage.
Moreover, you get an opportunity to choose your parts when having them installed without spending too much on labor costs. If you are planning to buy second-hand damaged cars at a good price, contact SBT Japan. They have a range of Jamaica-damaged cars that can be purchased at low prices.
Cons of Choosing a Cheap Accident Damaged Car for Sale
The biggest con to look out for is that you might spend more money fixing it up. Also, you don't know the full extent of the damage until you've bought it. It's harder to sell than an undamaged one. Moreover, repairing the car will cost more than it's worth. Finally, the vehicle may still have problems that can be expensive to fix.
The cons vary from car to car, but even a minor accident can negatively affect the value of a vehicle. For example, a dent in the body could also cause problems with rust behind it and along with the parts that were pushed together.
Additionally, if the car has been in an accident, there is no telling how it will fare in the future once the problems with the present circumstances have been repaired.
Minor accidents generally don't affect performance or safety, although structural damage may change how well your vehicle responds to steering.
Final Thoughts
Many people will run from any vehicle with even a hint of accident history, while others wouldn't think twice about buying a car that has been involved in an accident as long as it wasn't their fault. In any case, you can easily find a cheap accident-damaged car for sale.
Without digging too deep and knowing all the details, it is impossible to tell whether or not you should buy this car so take a closer look at those cars with accident history.
The damaged cars in Jamaica are available at low costs. You can also check the used car auction or contact SBT Japan for Jamaica's damaged cars.