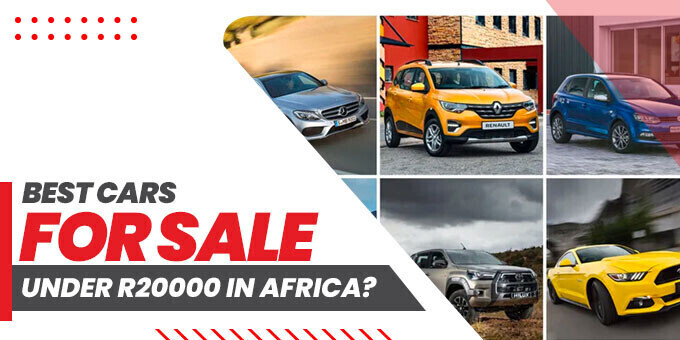 The South African automobile industry is rising swiftly. It has endured various changes and advancements. The country has some local producers and international producers that ensure the availability of the latest models. Hence, it delivers people with a range of choices when it comes to acquiring a car.
Indeed, purchasing a car has always been a challenge for people. It's not only about choosing the right vehicle but also ensuring that it meets the budget. Thus, it's beneficial to choose a used car that serves the purpose and meets the financial constraints. You can check out the cars for sale under R20000 and used cars in R20000.
The prices of cars easily scare people. An automobile is a costly purchase, and if a car is equal to twice your annual income, it can make you panic easily. After this, if you are wondering how you can own a good and reliable car? Look out for the used vehicles accessible in the market. These are economical and good quality options that easily meet your needs.
We've created a list of affordable cars in South Africa.
5 Cars for Sale Under R20000 in South Africa
In South Africa, you can buy a car regardless of your income. Also, you won't have to sacrifice quality, durability, and other features. All you have to do is devote time to do some great analysis. Then, once you have information about the cars for sale under R20000, you can choose.
Before you begin your quest, you must recognize your needs. For example, you might need a small or a large car or an SUV or a bakkie. Sometimes, people also look for luxurious and sports vehicles. Once you identify your needs, you can start shortlisting the cars for sale under R20000.
Whether you're a student or a part-time or full-time worker, you can own a car in South Africa. For your convenience, we have listed down the features and benefits of some of the best cars for sale under R20000 in South Asia:
1.    Nissan Micra
The Nissan Micra model is one of the affordable cars in South Africa. It's a supermini vehicle that is highly reliable. In addition, the car comes with a good and efficient engine that ensures low running costs.
For years, Nissan has been manufacturing reliable and durable models belonging to different categories. The Mirca has great build quality along with some of the best features. For example, the closed storage area makes it a comfortable car. Also, the safety features, including the immobilizer key system and seat-mounted airbags, make it a reliable choice.
The Mirca models lie in the category of used cars in R20000. If you want a car in decent order, you can connect with SBT Japan. The company has a range of models that can easily meet your needs.
2.    Toyota Yaris 1.5
No one can deny the fact that Toyota has been leading the automobile industry for decades. The automaker has manufactured some of the topmost automobiles that have easily satisfied consumers around the world.
Toyota Yaris is one of the affordable vehicles that come with practical and stylish features. Both the exterior and interior are designed uniquely considering the needs of people. Moreover, its maneuverability has made it a competitive vehicle.
The new Toyota Yaris can be bought for R170,000. But if you are looking for reasonable alternatives, check out the used Toyota Yaris models. These come with advanced features like audio with touch screen, radio, CD player, and steering wheel switches.
Overall, the model is reliable and affordable. Buying a Toyota Yaris can provide you with multiple benefits. First, it's a fuel-efficient car that can help you in saving costs.
3.    Hyundai i10
For decades, Hyundai cars have gained the attention of the people in South Africa. These vehicles are not only affordable and stylish but reliable and safe too. The i10 model consists of the biggest boot in its category. It's a small car that provides ample space for the passengers to travel conveniently.
The back doors of the vehicle provide access to the rear seats. Also, the interior is stylish and comfortable. In addition, it has a tight turning circle, which ensures a good driving experience.
If you are looking for a safe car for sale under R20000, start looking for the used Hyundai i10. The Euro NCAP has rated it as four stars for safety after the crash tests. Most car experts claim that the car drives better than it looks. It's an affordable and practical option for people looking for reasonable models.
4.    Chevrolet Utility
The Utility model of Chevrolet is identified as a bakkie. We all know that Bakkies have gained special attention in South Africa. Therefore, it is one of the extremely preferred models. The Chevrolet car offers great performance along with reliability.
Moreover, this car provides fuel economy and enhanced safety features. As a result, it is recognized as one of the most fuel-effective bakkies in South Africa. Along with being affordable, the pickup can easily carry your load from one place to another.
With SBT Japan, you can easily get cars for sale for under R20000. The Chevrolet Utility model is also available with the 1.4 petrol version. The most attractive features of the model include its front-loading CD player, body decals, 15" alloy wheels, and custom carpets. It also has some modern entertainment devices.
5.    Chevrolet Spark Lite 1.0
Spark Lite is another successful automobile model manufactured and introduced by Chevrolet. The car is known as a town car. Additionally, it has a modern interior and a classy exterior. It's designed cleverly so that the users can make use of all the space efficiently.
When looking for cars for sale under R20000, you'll get a list of second-hand and used Chevrolet models. The Spark Lite is a very responsive and safe model. It's also nippy and makes the best choice as affordable cars in South Africa.
It is a solid vehicle that comes with some of the best features—also, it's affordable, safe, and reliable for moving around the city. With 2 airbags and power steering, the car has become a desirable one in South Africa. In addition, you can conveniently find a used Chevrolet model in great condition.
Final Thoughts
So, we've listed some of the best contenders for a car for sale under R20000. All these models are easily available in South Africa. When purchasing a vehicle, it's highly recommended to carry out research and analysis.
As the automobile market is growing, you have a lot of options. However, if you are looking for affordable cars in South Africa, you can opt for the used cars for R20000. There is a huge list of some of the most reliable vehicles you can get in this amount. So, make the right choice and own a comfortable automobile.