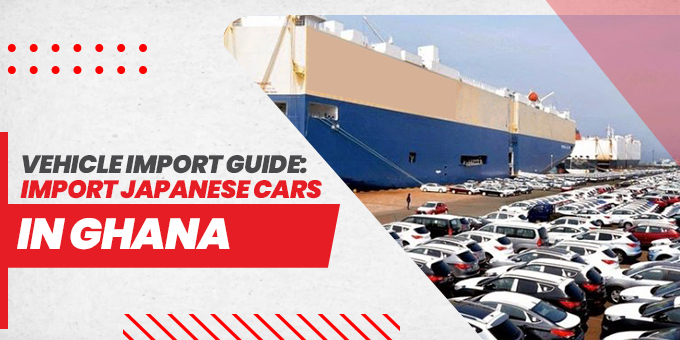 Ghana is one of the best countries to import used cars. They have regulations to import used vehicles from different makers and manufacturing countries. Well, Japan is one of the most prominent ones among these. So you'll easily find how shipping used cars to Ghana has become easier.
All over the world, Japanese used cars have achieved a lot of attention. Hence, its demand is constantly increasing. In Ghana, you can easily find well-maintained Japanese used cars. These are reliable, durable, efficient, and affordable. Moreover, all these are free of the problem as these vehicles undergo a strict inspection process.
The overall process of importing Japanese cars in Ghana relies on the car import guidelines in Ghana. Therefore, it is vital for the distributors, sellers, and buyers to understand the car import procedure in Ghana and how the overall methods of shipping used cars to Ghana can be managed uniquely.
Car Import Guidelines in Ghana
Ghana is commonly known for importing Japanese used cars. However, in the past few decades, Japan has become one of the biggest exporters of used vehicles. They produce and export some of the most durable, reliable, and affordable vehicles, which has made it easier for people to own a car.
The policies and guidelines influence international trade, including the import of vehicles. Therefore, it is vital to know the import guide so that the car import procedure in Ghana can be managed accordingly.
Read on to find out the car import guidelines in Ghana:
1.    Age Restrictions
Firstly, the age of the vehicle being imported to Ghana is important. For example, if the used car is over 10 years old, managing the graduated duty and penalty. Thus, you must choose a vehicle accordingly.
For the calculation of the age, the year of manufacturing is considered. Overall, age is an important factor that helps determine the car's valuation. It is necessary for the duty purpose.
2.    Required Documents
When considering importing Japanese cars in Ghana, you must have information about the required documents. Following the car import guidelines in Ghana, you need the following documents and information:
Manufacturing year of the vehicle
Name and address of the manufacturer
Value of home delivery of the used car
Purchase invoice
Insurance policy documents (original)
Certificate of Registration
Certificate of Title
Original Bill of Lading
Customs Form
International Driver's License
According to the guidelines and policies, you cannot miss any of these documents. These help in shipping used cars to Ghana conveniently and legally.
3.    Left Hand Drive Automobiles
According to the car import guidelines in Ghana, you can only import left-hand drive vehicles. However, the policies have some exceptions for special vehicles. In such cases, the buyers and distributors require permission.
4.    Shipping Ports
Once you plan to import used cars in Ghana, you'll have to choose a shipping port. In Ghana, it has been seen that the used Japanese cars are imported through the following two ports:
Port of Takoradi
Port Tema
Both these ports have their benefits and limitations. Hence, you are required to choose one of the shipping ports while booking an automobile.
5.    Duties and Taxes
Trade always involves duties and taxes. So, when you are importing an automobile, the policies and regulations set by the government, you're also required to pay taxes and duties.
The following duties are included:
Import VAT
ECOWAS Levy
Examination fee
Import duty
National Health Insurance Levy
Export Development Fund
Along with this, the import duties are calculated considering the engine capacity, seating capacity, usage, purpose, and age of the vehicle.
How to Import Japanese Cars in Ghana?
The demand for Japanese used cars is constantly increasing. As a result, more and more countries are trading used Japanese vehicles. These are well-known for durability and reliability and have become more popular in African countries. Ghana is one of these that have been importing used vehicles to ensure meeting the increasing demand for affordable and safe automobiles.
Here is a procedure of how to import Japanese cars in Ghana:
1.    Find a Reputable Supplier
First, find a supplier. You'll have to search for recognized and authentic exporters of Japanese used cars. Also, it's easier to find and connect with them on the web. It's best to list the reliable suppliers and then shortlist the best ones with a proven record.
2.    Pick Your Car
Second, choose your car. Your choice depends on your needs and budget. During this stage, you'll also have to consider the availability of the desired vehicle. It's better to assess and compare cars to ensure that you pick the one that meets your needs.
3.    Order
Once you have selected a car of your choice, you need to order. Most Japanese auto dealers are offering customers an opportunity to book their vehicles online.
So, confirm your order as soon as you have chosen a dealer and a vehicle. Before this, it's better to ensure that you've selected an authentic and reliable supplier.
4.    Payment
The payment for the imported car is managed according to the terms negotiated between suppliers and buyers. So if you want to get a used Japanese car in Ghana, you can order online conveniently.
You can choose to transfer the amount to the local bank account for the payments. In return, you'll receive a receipt for the payment, which the supplier will require. As soon as the receipt is shared, the shipping process is initiated.
5.    Shipping
Once the payment is made, the shipment process will start. The overall procedure relies on the agreement between you and your supplier. You'll probably get the imported vehicle in a few weeks.
6.    Clearance
For the legal trade, it is vital to get the port clearance of the imported vehicle. It requires you to pay the necessary fees and documents. The clearing agent will be available to serve you the right way.
Final Thoughts
The bottom line is that buying and selling Japanese used cars in Ghana has become very common. People belonging to different segments are considering importing used cars in Ghana as these are durable, reliable, and affordable. However, before shipping used cars to Ghana, you need to be sure about the car import guidelines in Ghana.
As a buyer, you can take benefit of the car import procedure in Ghana to get a vehicle of your choice. However, it's better to follow the guidelines and make sure that you choose reliable and authentic suppliers. For example, SBT Japan is a legit dealer that offers high-quality and tested used Japanese cars.