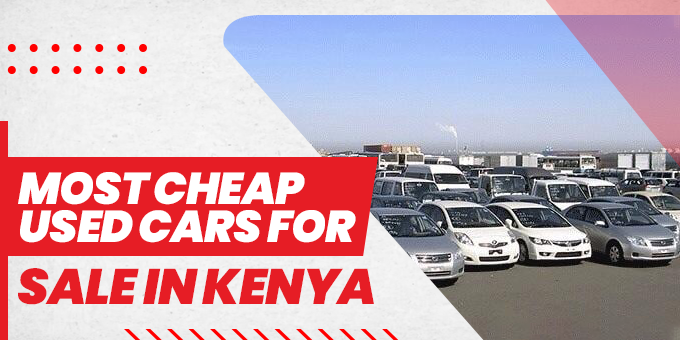 Are you in search of a reliable and affordable used car in Kenya? In this article, we will explore the most cost-effective used car models available for sale in Kenya. With a focus on Japanese used cars, particularly Toyota, Nissan, and Honda models, we will provide you with insights into where you can find these vehicles at great prices. SBT Kenya is a trusted name in the automotive industry, offering a wide range of quality used cars. So, let's dive into the details and discover the best cheap used car models that fit your budget!
Why Choose Japan Used Cars?
Before we delve into the specific models, let's explore the reasons why Kenyan buyers favor Japan used cars. Japan used cars are a popular choice among Kenyan buyers for several reasons. Here are some factors that contribute to their popularity:
Affordability
Japan used cars are often more affordable compared to brand-new vehicles. Kenyan buyers, especially those on a tight budget, find them a cost-effective option. The depreciation value of a new car is quite high, making used cars from Japan a more attractive choice for many.
High Quality
Toyota, Honda, Nissan, and Subaru, Japanese car manufacturers, have earned a reputation for producing vehicles that exhibit excellent build quality and reliability. People associate Japanese cars with durability, fuel efficiency, and low maintenance costs. This reputation for quality makes them a preferred choice for Kenyan buyers who seek reliable transportation options.
Availability
There is a wide selection of Japan used cars available in the Kenyan market. Besides that Kenya has a well-established system for importing used vehicles from Japan, which ensures a steady supply of cars in various models, makes, and price ranges. Buyers have the opportunity to choose from a diverse range of options that suit their preferences and budget.
Spare Parts Availability
Japanese car manufacturers have a strong presence in Kenya, and as a result, there is a reliable supply of spare parts and servicing options for Japan used cars. This availability of spare parts ensures that maintenance and repairs can be carried out easily and at a reasonable cost, which adds to the appeal of these vehicles.
Familiarity and Reputation
Over the years, Japanese cars have gained a strong reputation in Kenya for their performance, reliability, and longevity. Many Kenyan buyers have had positive experiences with Japanese vehicles, which leads to a sense of familiarity and trust. This familiarity and reputation further contribute to the popularity of Japan used cars among Kenyan buyers.
In summary, the affordability, high quality, availability, spare parts availability, and familiarity of Japanese used cars have made them a popular choice among Kenyan buyers. These factors collectively make Japanese vehicles an appealing option for individuals seeking reliable transportation at a reasonable price.
Toyota Models
Among the various Japan used cars available in Kenya, Toyota models are highly sought after due to their reliability and affordability.

The Toyota Corolla is a popular sedan that offers great fuel efficiency, comfort, and durability. It is known for its low maintenance costs and high resale value, making it an ideal choice for budget-conscious buyers.
The Toyota Vitz, also known as the Yaris, is a compact hatchback that offers excellent fuel economy and a comfortable interior. It is a reliable and affordable option for city driving.
The Toyota Fielder is a practical station wagon that provides ample cargo space and seating capacity. It is a versatile vehicle that suits personal and commercial needs, making it a popular choice in the Kenyan market.
Where to Find Affordable Used Cars in Kenya
SBT Kenya – Your Trusted Source for Quality Used Cars
When it comes to finding affordable used cars in Kenya, SBT Kenya is a reliable platform besides any other because it offers a wide selection of Japan used cars.
SBT Kenya's Online Inventory:
SBT Kenya provides a user-friendly website that allows you to browse through a vast range of affordable used cars. The website provides detailed vehicle information, including specifications, pricing, and high-quality images, enabling you to make an informed decision.
SBT Kenya's Quality Assurance:
At SBT Kenya, every used car goes through a rigorous inspection process to ensure its quality and reliability. This commitment to quality gives buyers peace of mind when purchasing a used car from SBT Kenya.
Nissan and Honda Models
Nissan Models
In addition to Toyota, Nissan, and Honda are also popular choices among Kenyan buyers for their affordability and reliability.
The Nissan Tiida, also known as the Versa, is a compact sedan that offers comfortable seating, and ample legroom, and good fuel efficiency. It is a practical choice for daily commuting and long drives.


The Nissan Note is a compact hatchback that provides a spacious interior, practical features, and excellent fuel economy. It is a versatile car that combines functionality with affordability.
Honda Models



The Honda Fit, also known as the Jazz, is a compact hatchback that offers a spacious cabin, versatile seating configurations, and, furthermore, impressive fuel efficiency. It is known for its reliability and fun-to-drive nature, making it a popular choice among Kenyan buyers.
The Honda CR-V is a compact Reliable SUV in south africa that provides ample cargo space, comfortable seating, and a smooth ride. It is a practical choice for families or individuals who desire a versatile vehicle for urban and off-road adventures.
Tips for Buying a Cheap Used Car in Kenya
Set a Budget:
In Addition buying a cheap used car in Kenya requires careful financial planning. Here are some tips to consider.
Furthermore It is crucial to determine your budget before starting the search for a used car. This will help you narrow down your options and focus on vehicles that are within your price range.
Research and Inspect:
Finally a thorough research and inspection are essential to ensure you get the best value for your money. Conduct research on the specific used car models you are considering, including their market value, common issues, and maintenance costs. Additionally, it is crucial to always inspect the vehicle thoroughly or, alternatively, hire a professional mechanic to assess its condition and identify any potential issues.
Conclusion
Finding a cheap used car for sale in Kenya doesn't mean compromising quality and reliability. With the availability of Japan used cars, particularly Toyota, Nissan, and Honda models, you can find affordable options that suit your budget.
Moreover whether you choose a Toyota Corolla, Nissan Tiida, or Honda Fit, these vehicles offer excellent value for money, reliable performance, and low maintenance costs. Moreover, SBT Kenya, a trusted platform, offers you a wide range of affordable used cars, guaranteeing a hassle-free buying experience
Even if your budget is not too high, you can have a reliable car with thorough market research. Be clear on your needs and see which models fulfill your needs. Keep Toyota, Nissan, and Honda in mind since these brands are reliable and affordable. Their used cars have good value and do not require a lot of investment in repairs unless used negligently by the previous owner.
So, don't delay any furthermore; start your search today and make a smart investment in a cost-effective used car that meets your needs and enhances your daily commuting experience in Kenya.