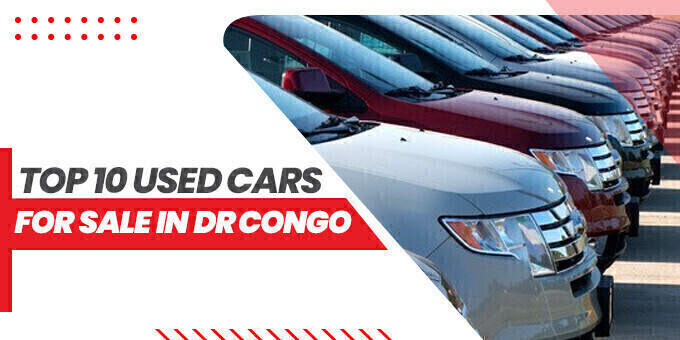 Congo is now a stable and fertile market for importing Japanese automobiles, and its second-hand cars dealership is fast emerging. Japan is the leading supplier of new and second-hand autos in the world. This nation has earned a solid reputation for providing people with high-quality automobiles at reasonable prices. Because of this, many individuals continue to acquire automobiles from used cars dealers in Congo despite the rigorous importation rules enforced by the government.
People in the Democratic Republic of Congo are particularly fond of Japanese used cars for sale in DR Congo. In this blog, we have compiled this list of our top pre-owned Japanese automobiles for buyers in this amazing nation in Central Africa.
1. Toyota HiAce
This practical vehicle is an ideal commuting van. To maximize efficiency, the vehicle should be able to accommodate as many passengers as feasible. In congested locations, the Toyota HiAce van comes in very handy.
The HiAce van is a commercial cab-over-engine van. Because of its versatility and strong engine, it has become a sought-after vehicle.
2. Toyota Alphard
Many auto experts believe that Lexus would produce a van similar to the Alphard if it wanted to go that route. The performance of this vehicle has been fine-tuned to meet the needs of its intended audience, and it does it in luxurious style. You would not feel any jerkiness from the brakes if you have got an experienced driver in charge of it. You will also like the suspension, which has been fine-tuned to handle road irregularities.
You will discover a 3.5-litre V6 engine under the hood. The Dual VVT-i engine can produce 271 horsepower and 340 nm of torque. The power output is comparable to a sportier midsize sedan. Furthermore, its design is so adaptable that it may be utilized for various applications. It is also possible to add accessibility features to make it more user-friendly.
3. Toyota Harrier
The Toyota Harrier tiny mid-size crossover SUV has been on the market since 1997 and is still available today. SRS airbags, power steering, an anti-lock braking system, and Pre-Collision System with a pre-collision system, automatic high beam, lane departure assist, and adaptive cruise control are all included in the front-engine, front-wheel-drive / front-engine, four-wheel-drive arrangement.
A Super CVT-i with 7-speed simulation powers the 2.0L 3ZR-FAE straight-4 petrol engine, producing 149 horsepower at 6100 rpm and 193 Nm of torque at 3800 rpm; the 2.5L 2AR-FXE straight-4 petrol engine powers the hybrid model with an eCVT gearbox.
4. Toyota RAV4
The Toyota RAV4 is a five-door small SUV initially introduced by Toyota in 1994 and has since undergone five versions of development. SRS airbags, 16-inch alloy wheels, traction control, ample head- and legroom, a leather-wrapped steering wheel, and a lane departure warning are all included as standard equipment. There are two engine options for the Toyota RAV4: the 2AZ-FE straight-4 engine and the 2GR-FE V6 engine.
5. Toyota Land Cruiser Prado
There are three and five-door versions of this sport utility vehicle initially presented in 1990. Aside from its off-road prowess and fuel economy, this vehicle is lauded for its high dependability, roomy interior and ample load capacity. Automatic climate control, electric windows, power steering, locks, traction control, SRS, and side airbags are all standard equipment.
Antilock brakes and front fog lights are also included as standard equipment are side airbags and side curtain airbags. The vehicle has two engines: a 2.7L 2TR-FE straight-four petrol engine that generates 163 horsepower at 5200 RPM and an even more powerful 4.0L 1GR-FE V6 petrol engine that generates 276 horsepower at 5600 RPM with an automatic gearbox.
6. Toyota Probox
A five-door van and wagon, the Toyota Probox was launched in 2002 by Toyota and had a front-wheel/four-wheel powertrain. SRS airbags, brake assist, anti-lock brakes, vehicle stability control, power mirrors, traction control, power steering, power windows, and air conditioning are all included in this model. In addition to a 1.5L 1NZ-FE straight-4 petrol engine with 80 kW at 6000 RPM, the Toyota Probox can also be equipped with a 1.3L 1NR-FE straight-4 petrol engine with 70 RPM and a CVT gearbox.
7. Toyota Noah
Originally debuted in November 2001, the Toyota Noah is a five-door minivan with front-wheel drive and all-wheel drive as optional configurations. Seven to eight persons may sit comfortably in this vehicle, which is suitable for business and personal travel.
A 10-inch touchscreen infotainment system and eight speakers in the Noah Panoramic Live Sound System round out the standard amenities in this model, including automatic high beams. 112 kWare provided by the Toyota Noah's 2.0L 3ZR-FAE Valvematic straight-4 gasoline engine, and a 1.8L 2ZR-FXE straight-4 petrol hybrid engine is backed by an AC synchronous motor an electronic continuously variable transmission.
8. Toyota Crown
Toyota initially released the Crown sedan in 1955 as a four-door executive vehicle. With fifteen versions of the same brand, it is a four-wheel/rear-wheel-drive vehicle. SRS airbags, traction control, vehicle stability control, power windows, air conditioning, power steering, cruise control, power locks, brake aid, and an anti-lock braking system are all included in the standard equipment of this car.
9. Mitsubishi Canter
Mitsubishi Fuso Vehicle and Bus Corporation introduced the Mitsubishi Fuso Canter in 1963, and it is currently in its eighth iteration as this two-door light commercial truck with all-wheel drive. It has a brake override system and electronic brake-force distribution, and driver and passenger airbags as standard equipment.
10. Nissan X-trail
Five-door crossover SUVs are the most common kind of the Nissan X-trail, and they are available with either a front- or four-wheel-drive system. If you want an SUV that can handle whatever you throw at it, go no further than the Jeep Wrangler Unlimited. SRS airbags, cruise control with automatic braking, leather-wrapped steering wheel, power windows, satellite navigation, an audio system with six speakers, and an anti-lock brake system are all included in the standard equipment.
So which one did you like best?