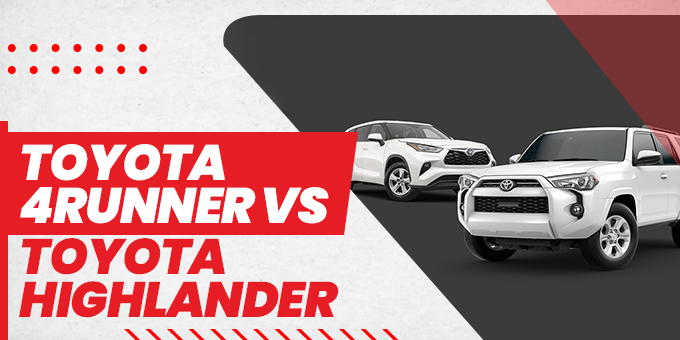 Toyota is a well-known brand globally with devoted clients. Customers are in a difficult situation when choosing any one model from this brand. You should undertake appropriate research to come to a decision that is best for you. The Toyota 4Runner and Toyota Highlander are both Toyota's well-known and well-performing SUVs. However, these two vehicles have major differences that might make your decision easier. This article will help you compare both models highlighting their features, which will result in you being able to make the choice that aligns with your needs.
Design and Styling
The Toyota 4Runner is a body-on-frame SUV that Toyota has manufactured specifically for off-road driving. Due to its boxy, tough design and high ground clearance, the vehicle is capable of maneuvering across difficult terrain. 4Runner has distinctive headlights and a large front grille which gives it an imposing and tough look. Toyota Highlander, in contrast, is a unibody SUV whose purpose is on-road driving. Its exterior is sleek and aerodynamic with a lower ground clearance which does not make it suitable for off-road. Due to its streamlined headlights and smaller grille, it has a more refined look.
Coming to their design, as mention earlier, the 4Runner is built to be heavy and tough to drive through rough roads. The body-on-frame construction indicates that the vehicle is separate from the frame. The design ensures durability and strength, which makes it comfortable for off-road driving. In comparison, the Highlander has a unibody which means the body and the frame are integrate into a single unit. It is more fuel-efficient and lighter while also providing a better ride on paved roads.
Similar design elements, such as sharp headlamps and a sizable front grille, are shared by both cars. However, the 4Runner is more rugged and aggressive, having prominent body cladding and larger fender flares. It also offers a TRD (Toyota Racing Development) off-road package. The package includes features like skid plates. Locking rear differential and all-terrain tires.
In contrast, the Highlander has a modern and refined look. Its sleek body does not allow it to drive rough and go off-road. However, its hybrid powertrain allows excellent fuel efficiency and reduced emissions. It shows that the vehicle is efficient and affordable and does not impact the environment negatively.
Interior and Comfort
Both the Toyota 4Runner and Toyota Highlander have spacious interiors that are comfortable for both passengers and baggage. The layout of the 4Runner is more typical for an SUV, with a roomy interior and plenty of head- and legroom for both the front and back occupants. The Highlander, on the other hand, offers a quieter ride and a more car-like layout with comfy seats. The Highlander, on the other hand, offers a smoother ride and a more car-like cabin with comfy seats.
Performance and Capability
The Toyota 4Runner and Toyota Highlander are both capable SUVs but have different performance capabilities. The difference between their off-road and on-road performance is huge and helps you decide. You should know the purpose for which you need an SUV. A 4.0-liter V6 engine with 270 horsepower and 278 lb-ft of torque is include as the standard. On the other hand, the Highlander is a more urban-friendly SUV with a unibody architecture that offers a pleasant and quiet ride. A 3.5-liter V6 engine with 295 horsepower and 263 lb-ft of torque is include as standard.
Technology and Safety Features
The Toyota 4Runner and Toyota Highlander have a broad range of technological features, including safety features. An 8-inch touchscreen, Apple CarPlay and Android Auto connectivity, and a rearview camera are all include on the 4Runner. Additionally, it offers cutting-edge safety technologies, including adaptive cruise control, automated emergency braking, and lane departure warning. Additionally, the Highlander has an 8-inch touchscreen and supports Apple CarPlay and Android Auto. It has an optional 360-degree video system in addition to safety technologies, including lane departure alerts, automated emergency braking, and adaptive cruise control.
Fuel Efficiency
Because of its smaller and more effective engine, the Toyota Highlander uses less gasoline than the Toyota 4Runner. According to the EPA's estimates, the Highlander achieves 21 mpg in the city and 29 mpg on the highway, while the 4Runner achieves 16 mpg in the city and 19 mpg on the highway.
Price and Value
Price-wise, the Toyota Highlander is a bit more costly than the Toyota 4Runner, which is more pricey overall. While the Highlander starts at about $35,000, the 4Runner starts at about $37,000. But for certain consumers, the 4Runner may represent a better deal because it comes standard with more equipment and has a greater towing capability.
Which One is Better?
To be very specific, there is no better or worse SUV. Your choice depends on your use of the vehicle. If you want to use it off-road, 4Runner will serve the purpose. If you want it for on-road, Highlander seems a better option. Apart from the features and design, affordability matters a lot. If you want a fuel-efficient SUV, go for Toyota Highlander because it has better fuel efficiency than the 4Runner.
The Toyota 4Runner could be a better choice for you if you like off-roading or require a car with more hauling power. It's a fantastic option for individuals looking to travel off the main route due to its body-on-frame construction and potent V6 engine. The Toyota Highlander, however, could be a better option for you if you value fuel economy and a more pleasant ride.
You may feel secure and in control while driving thanks to the variety of technology and safety measures that are included in both cars. The Toyota 4Runner and Toyota Highlander are also well-known for their dependability and durability, making them excellent investments for anyone looking to buy a car that will endure for many years to come.
When evaluating the decision regarding the Toyota 4Runner vs. Toyota Highlander, it's important to think about one's requirements and how they align with each car. Make an informed choice about the best SUV for sale in jamaice for you by considering elements like off-road capabilities, pricing, and fuel efficiency. If you want to drive the car both on and off-road, the choice can be challenging. Determine what will be the more frequent use and how rough the terrain for off-road. Any dealer or seller can help you to an extent, but how your vehicle will be used in the future is entirely up to you and your needs.
Conclusion
Among the Toyota 4Runner and Toyota Highlander, none of the models is better or worse. They are both suitable for their own purpose. The Toyota Highlander is a better option if you intend to drive in the city because of its svelte form and economical fuel use. The greatest vehicle, nevertheless, is the Toyota 4Runner for off-roading or in rural regions. Both cars offer incredible safety, performance, technological, and cost-effective qualities. Nevertheless, which one is the best option for you will depend on why you require an SUV. It is highly recommend that for off-road, go for 4Runner, and on-road, go for Highlander.