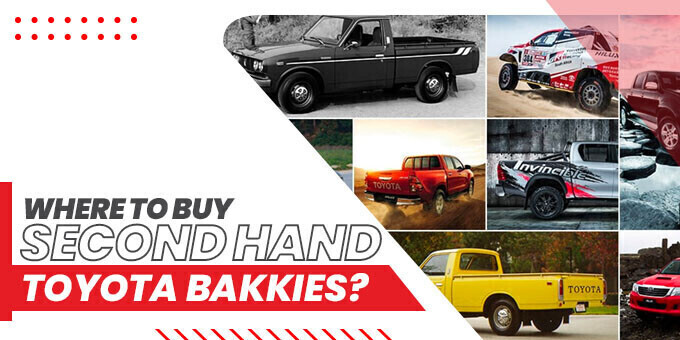 The Bakkies have become a do-anything vehicle. It can be used to go anywhere. As a result, many automobile manufacturers have introduced different bakkies from time to time. These aren't only reliable and durable, but stylish too.
A Bakkie is also identified as a pickup truck in countries. It's a utility vehicle that allows carrying loads of goods and things from one place to another. It's preferred by businesses and individuals who want to drive and achieve the best off-road experience.
We comprehend that purchasing a car is always a thought-provoking decision. People are often confused about whether to buy a new car or a second hand. If you are planning to buy a Bakkie, consider the second-hand Toyota bakkies for sale. The Toyota second-hand bakkies are not only trustworthy but reasonable too. These offer a range of benefits to its buyers.
Here are some of the dealers and places from where you can choose second-hand Toyota bakkies for sale.
Credible Places to Find Second-Hand Toyota Bakkies for Sale
With the snowballing rivalry and demand in the market, producers are announcing more sturdy bakkies. Hence, the manufacturers aim to build a tough reputation that makes Bakkies beneficial for general use. Thus, the vehicles keep up with the modern demand and are also advantageous as a family vehicle.
When looking for bakkies, you'll see that most of these are bought as workhorse automobiles. It's commonly used for trading goods. The Toyota second-hand bakkies can be more affordable than the new ones.
Here are some of the dealers that have second-hand Toyota Bakkies for sale in South Africa:
1.    SBT Japan
SBT Japan is one of the most reputable and successful businesses in the automobile industry. The company is known for selling high-quality, tested, and certified vehicles. Moreover, they have a tremendously simple procedure that follows the legal principles of the countries they are dealing with.
SBT is the largest digital auto marketplace. It's operating at a large scale and serves people by offering vehicles according to insights into the car buying patterns in the country. You don't have to worry while purchasing used cars from SBT, as they test all vehicles before making them available for purchase.
The people at SBT Japan make it easier for you to choose and buy Toyota second-hand bakkies. The company has second-hand Toyota bakkies for sale at very affordable prices. Visit the website to learn more about Toyota Bakkie prices.
2.    Super Group Dealerships
The Super Group Dealership has a network in South Africa. They have most of the major automobile brands and offer both new and used vehicles. Also, these include commercial and non-commercial automobiles.
The dealers are leading the industry by offering quality and reliable automobiles. Their customer service and staff are remarkable, which ensures customer satisfaction. You can visit the dealer and compare and evaluate the features and prices before you make a decision. For the Toyota second-hand Bakkies, the Super Group Dealership is a great choice.
3.    NTT Motor Group
The NTT Group is one of the reputable car dealers in South Africa. They deal in both new and used vehicles and have all the topmost brands. The business has emerged as a strong competitor in the market. They don't only have a range of Toyota second-hand bakkies but also provide special offers.
With the NTT Motor Group, once you choose your favorite second-hand Bakkie for sale, you can also opt for a finance option. As a result, it makes it stress-free to own a vehicle of your preference.
4.    Williams Hunt Company
Williams Hunt is another reputable name in the market, operating in the South African market since 1903. The company offers an extensive range of automobiles and delivers full sales and after-sales services.
If you are looking for a second-hand Toyota bakkie for sale, you can visit Williams Hunt. They also offer warranties and maintenance plans. Hence, don't miss the opportunity and check out Toyota Bakkie prices. Then, compare them and make your choice.
Don't Miss Other Options to Buy Toyota Second Hand Bakkies
Moreover, if you don't want to buy second-hand Toyota bakkies from the dealers, you can purchase from individual sellers.
In South Africa, the Toyota Bakkies have gained a lot of attention. People belonging to diverse segments have been buying bakkies for years. Also, companies use it for delivering and moving goods. But, on the contrary, the locals and travelers use a Bakkie to achieve an adventurous off-road experience.
As new models of bakkies are entering the market, many people are selling their old ones. Hence, you can easily find second-hand Toyota Bakkies for sale. Thus, check on the online portals and local newspapers. People often advertise their vehicles for sale.
If you choose individual sellers, you might get Toyota second-hand bakkies at higher prices. Therefore, it's better to compare the Bakkie prices from dealers and individual sellers. Through this, you can make better choices.
Among all the bakkies, Toyota Hilux has achieved a commendable position. It spans eight generations and has gained an enviable reputation in the market. It's one of the most trusted commercial vehicles. More than 19 million units have been sold globally. Also, it's the most popular Bakkie in South Africa. So, if you want to buy a Bakkie, start looking for a Toyota Hilux.
Final Thoughts
Toyota Bakkies are undoubtedly very famous. However, sturdy and reliable pickup vehicles are highly beneficial in the long run. Hence, if you want to buy a Toyota Bakkie, we suggest checking out the second-hand Toyota Bakkies for sale. The automobile dealers mentioned above can provide you with the best Toyota second-hand bakkies.
We always recommend testing and trying second-hand vehicles before purchasing. It ensures that you choose the right one. Also, compare the Toyota Bakkie prices and make sure that you get a better deal.